Top 3!


Today I'm going to share a portion of my favourite cosmetics :)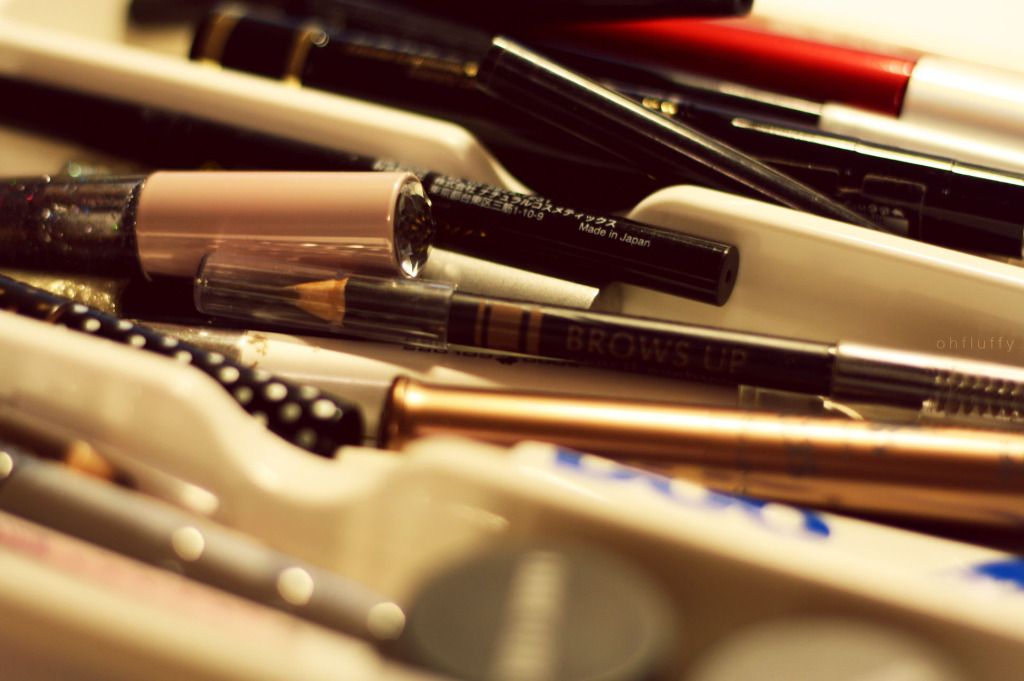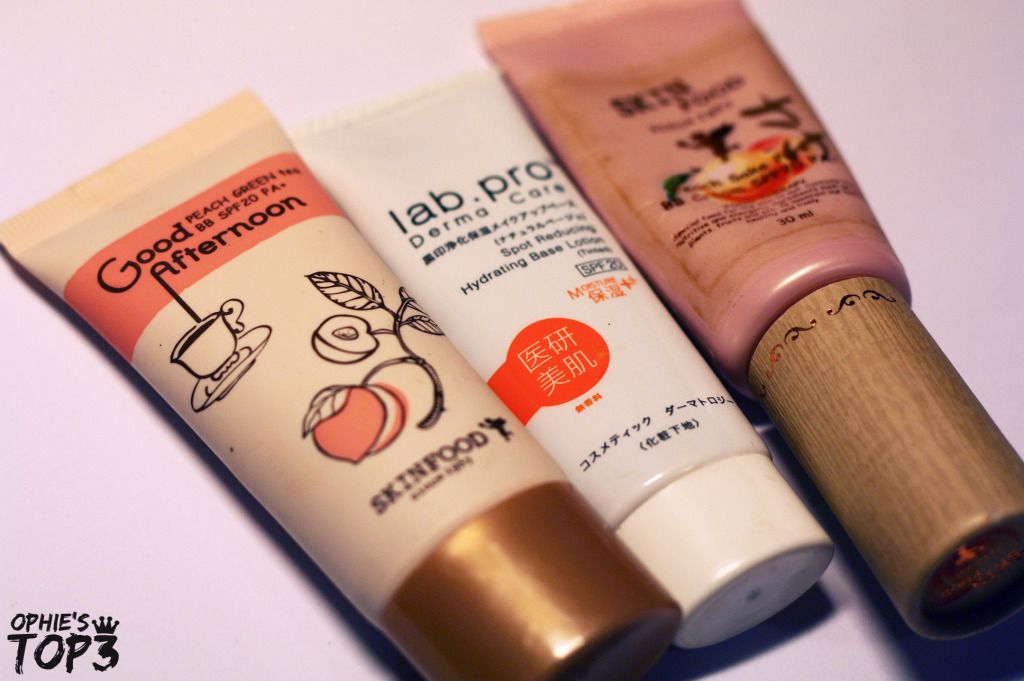 These BB Creams are absolutely fantastic. Work well for any season and have great coverage.
Skin Food Good Afternoon BB Cream Peach Green Tea 5/5
★
★
★
★
★
"Infused with skin-revitalizing afternoon teas, it helps you keep a bright, vibrant skin tone all day! An oil-controlling and skin-mattifying BB cream that keeps skin fresh and matte with vitamin-enriched peach extract and sebum-regulating green tea."
This BB cream really does what it promises. Mattifying and oil controlling. Great coverage. Perfect match for my skin tone (#1). Light, pleasant fragrance. Highly recommend.
lab.pro Derma Care Spot Reducing Hydrating Base Lotion 4/5
★
★
★
★
I can't find this product anywhere online so there's no information :( I purchased this a while ago in Hong Kong and it comes in a convenient thin tube. This BB cream is intensely hydrating and at times can be a bit oily but nothing some finishing powder can't do. Some slight grey undertones and I think this is also comparable to the Skin79 Hot Pink BB Cream. Recommended for dry/sensitive skin.
Skin Food Peach Sake BB Cream 4/5
★
★
★
★
"Peach extract soothes and calms skin irritations, while sake regulates sebum production to keep skin matte and fresh looking without need of constant touch-ups. Best used under foundation or powder. Recommended for oily and sensitive skin types."
I think this is a great 'default' BB cream. Something I like to come back to when my skin isn't working well with anything else. It's got nice yellow undertones that match my skin and gives a nice matte finish. Sometimes I find that it's hard to control how much cream is coming out because of the pump bottle that also doubles as a squeeze tube? But other than that, highly recommend.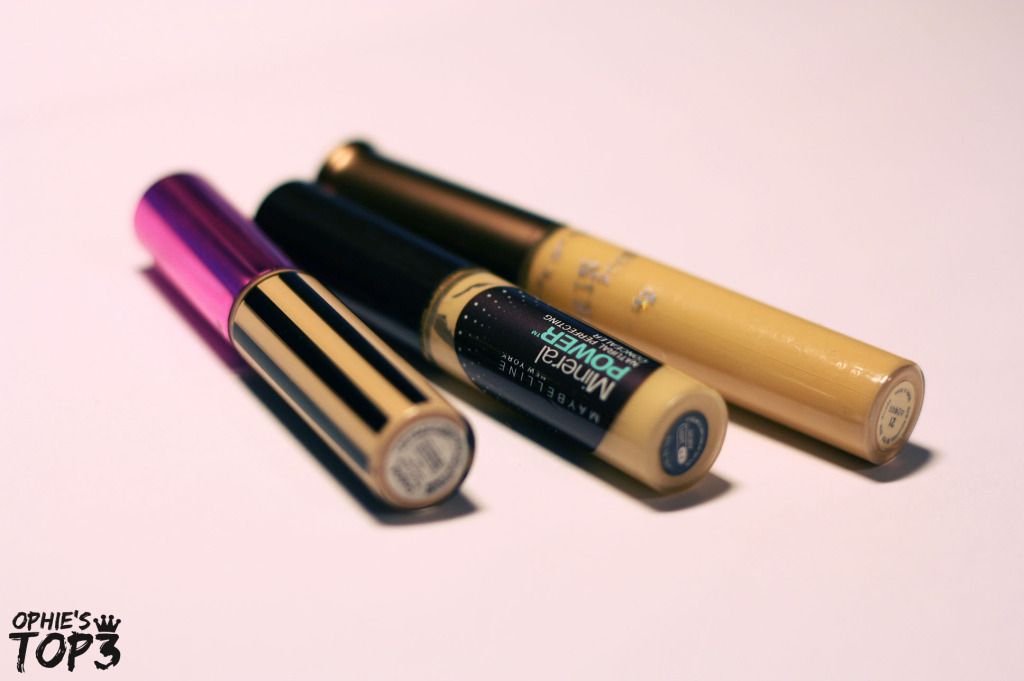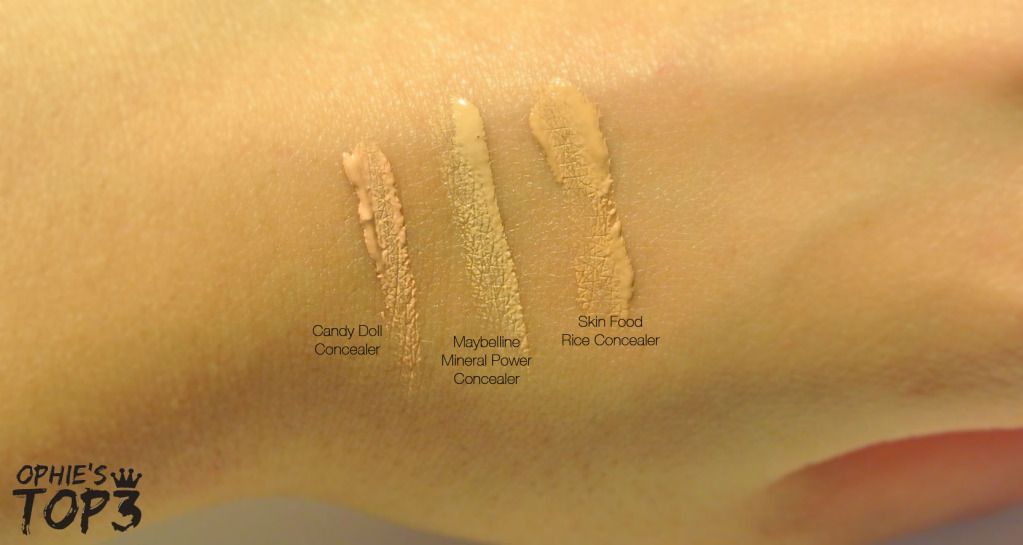 Candy Doll Concealer 3/5
★
★
★
"Candy Doll Concealer covers pores, acne, improves evenness of skin tone and imperfection and lightens up the dullness on the skin. It delivers perfect coverage effect for freckles and spots. it makes you look glamorous. It also moisturizes the skin"
I had high hopes for this concealer since I am so in love with the Candy Doll range. However, this is still one of my favourite concealers, just not the best. It blends well, has good coverage.
I have sensitive skin, however, and I feel that this isn't very friendly as it stings sometimes under the eyes. Works better on facial areas, I stay away from fragile areas with this one. I prefer to just use this as a lip concealer.
Maybelline Mineral Power Concealer 5/5
★
★
★
★
★
This is hands down my favourite concealer of all time. It blends very easily and has great coverage. Doesn't clog pores and has no fragrance so this would be fine for sensitive skin. Works well on both under eye areas and troubled spots. Creamy texture makes it suitable for any season. It's cheap too :)
Skin Food Rice Concealer 4/5
★
★
★
★
I like this concealer because it has yellow undertones that blend really well with my skin without making me appear ghost-like. However it has fragrance and sometimes can be harsh on fragile areas. It has a thick creamy texture and it very easy to blend. A little goes a long way with this.
Skin Food Buckwheat Loose Powder 5/5
★
★
★
★
★
Lightweight and perfect as a finishing powder. On casual days, I love to just wear this on its own. Provides light coverage, doesn't cake and creates a nice matte finish. Comes in a generous tub that will last for ages and smells... AMAZING.
Candy Doll Mineral Loose Powder 5/5
★
★
★
★
★
Lightweight and perfect also, as a finishing powder. Also perfect to wear on its own. However, I find this one not to give much coverage. Finish is very matte though and doesn't cake. I wish this came in a bigger tub. The little one doesn't last very long but perfect for on the go. No fragrance.
MaxFactor Loose Powder 5/5
★
★
★
★
★
I bought this a while ago from Harbour Town. But since then, I'm unable to find it again anywhere. I love this so much and have been using it for a long time. Still hasn't run out. It has nice yellow undertones and gives a matte finish. However, too much of it can make your face cakey. Can be worn alone. No fragrance.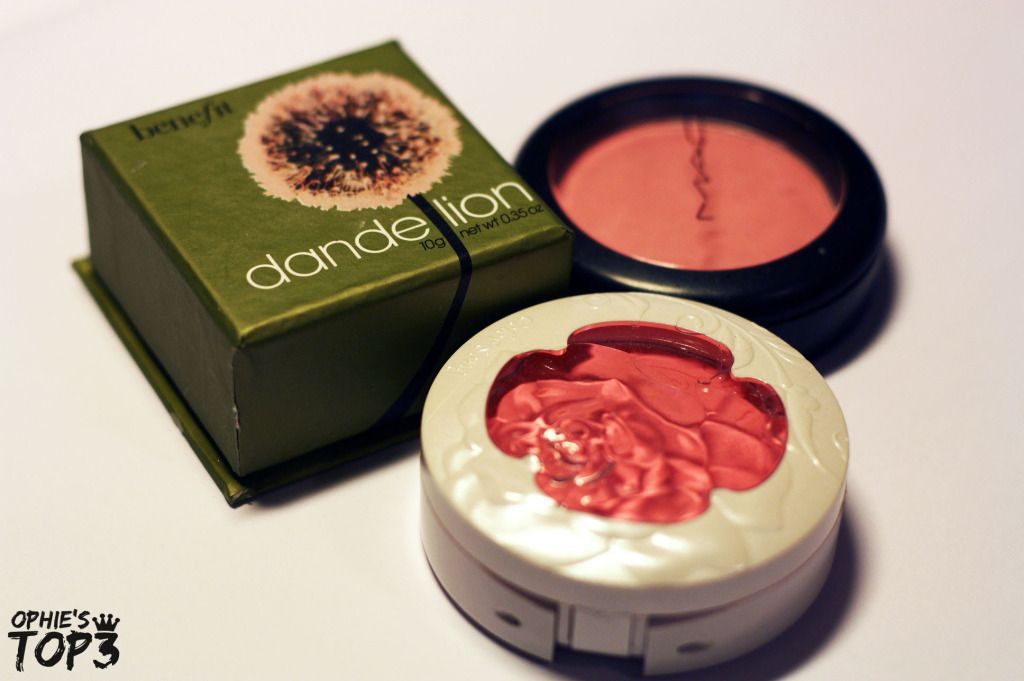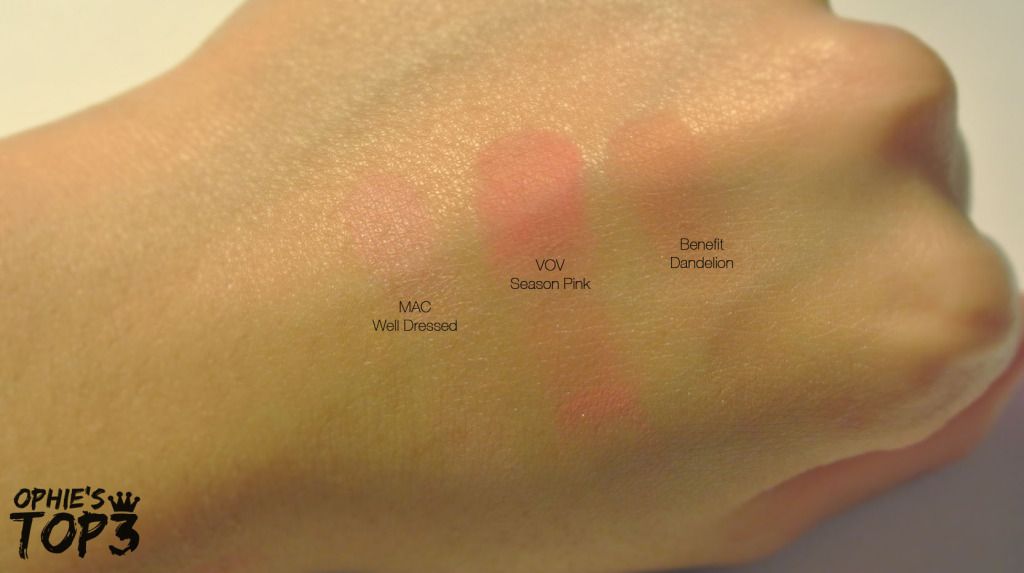 MAC Blush Well Dressed 4/5
★
★
★
★
Beautiful baby pink colour. It's so sweet and the perfect kind of baby pink/pale pink that looks dolly and cute. It's a bit hard to get the full potential of the colour because of the shimmers so it's necessary to build by layering. But other than that, it's a perfect everyday go-to colour for me.
VOV Blush Season Pink 5/5
★
★
★
★
★
This is a very nice pigmented, hot pink. Very buildable and looks good just with one layer. Looks peachy in the photo but it's actually a bright pink. No shimmers so it's matte. I love it :)
Benefit Dandelion 5/5
★
★
★
★
★
This is a beautiful plum/pink colour with subtle shimmers and buildable texture. Very perfect for any ocassion. A little pricey but worth every penny.
I didn't have swatches for these highlighters because they're shimmery and very hard to be picked up by the camera.
Privacy Bright Up Colour (Yellow) 5/5
★
★
★
★
★
This is an amazing highlighter and because of it's yellow undertones, can be used as concealer as well. Very very subtle shimmers but gives a nice matte finish that's easy to blend. Applied lightly can give a matte finish and applied generously can give medium coverage. A little goes a long way, this will last forever.
Calvin Klein Eyeshadow 101 Arctic 4/5
★
★
★
★
I use this eyeshadow as a high lighter. It's very pigmented and gives a beautiful white shimmer. Best applied to brow bone and bridge of the nose.
Sana Highlighter 5/5
★
★
★
★
★
I'm not exactly sure what this is called because I can't find the product anymore. But it is a pressed compact and comes with a little brush that is helpful for applying it to the brow bones, cheek bones and bridge of the nose. It has subtle shimmers and a cross between a white and a beige undertone.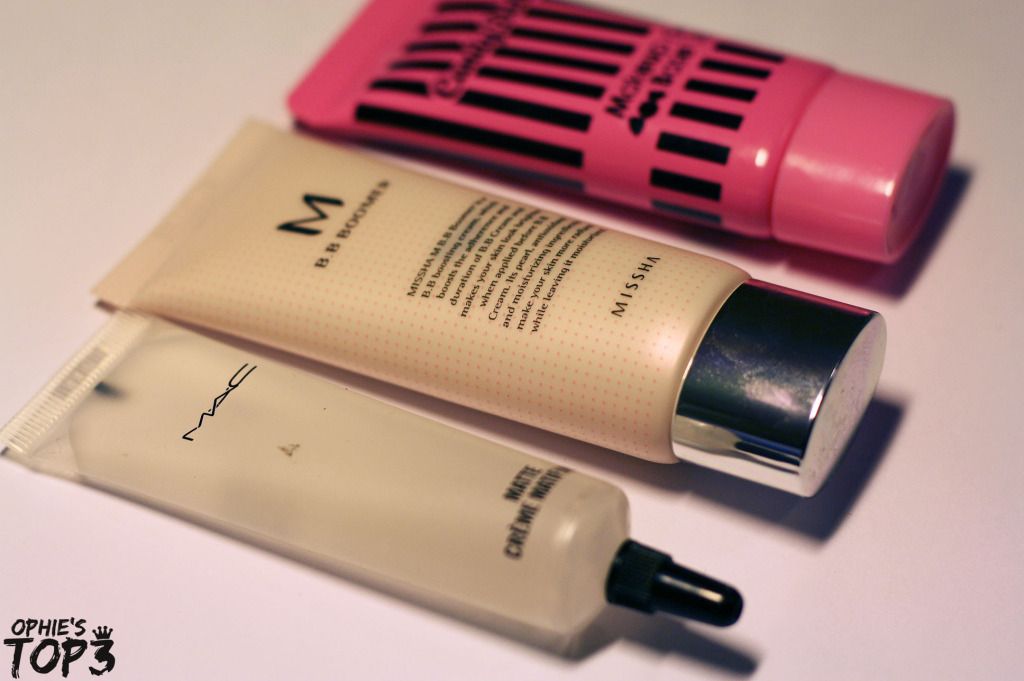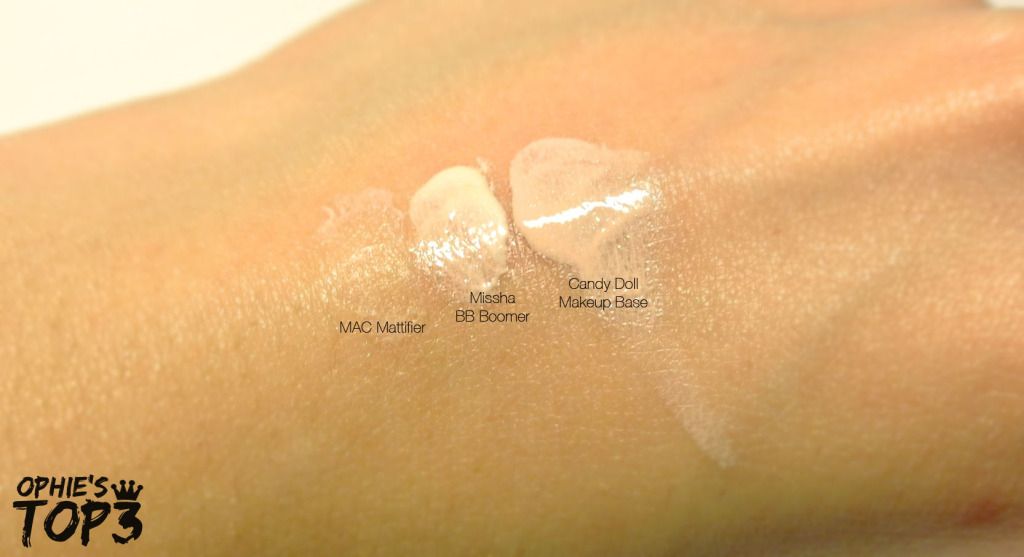 This multi purpose mattifying cream can be used as a primer or a mattifier. It has no colour, but works very well at what it's supposed to do. Though the tube it small, you only need a little to go a long way. I've been using this for years. Can be used anywhere on the face including eyes, face, lips. Pricey, but will last a long time.
Missha BB Boomer 4/5
★
★
★
★
This is light, and comes with subtle shimmers that instantly brightens the face, giving a luminous, dewy glow. I like using this as a base, or sometimes on its own.
Candy Doll Makeup Base 5/5
★
★
★
★
★
This instantly brightens the complexion upon application with a light matte finish. There are no shimmers and has a light beige tinge to it that blends instantly to match your face colour. Contains SPF.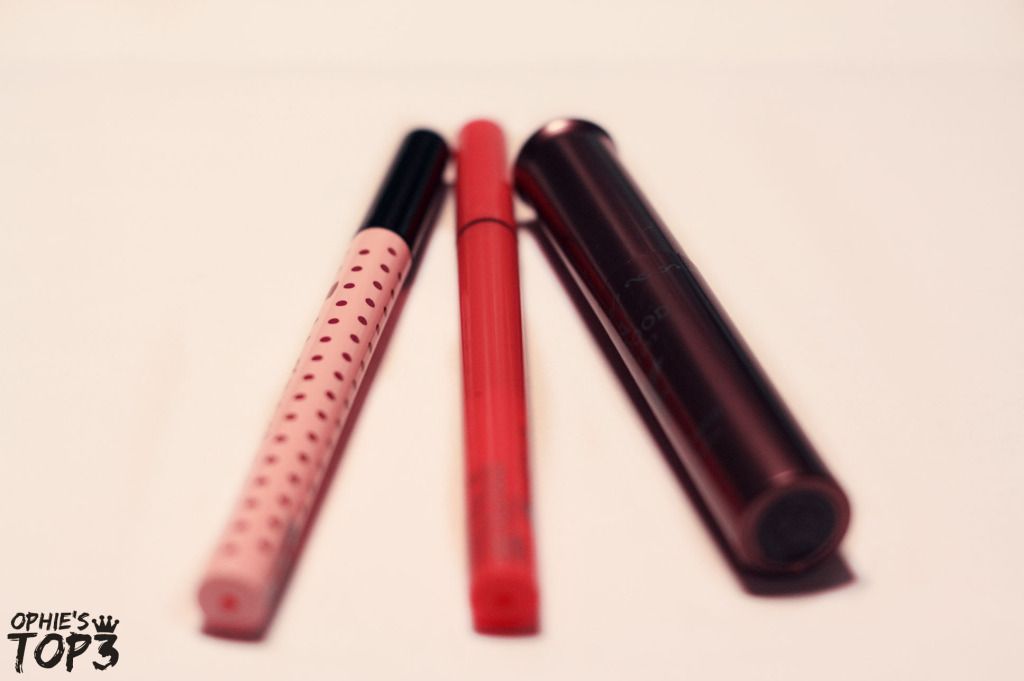 Koji Dollywink Liquid Eyeliner 5/5
★
★
★
★
★
This will forever be my favourite liquid eyeliner of all time. The colour is an intense black that can be buildable. The pen like design makes it really easy to apply and create winged flicks. Great versatility and easy to control. Lasts for a long time, waterproof, smudge proof. Best liquid eyeliner!
K-PALETTE Real Lasting Liquid Eyeliner 4/5
★
★
★
★
This is highly comparable to the Dollywink Liquid Eyeliner, however I feel that the tip is a little more softer so it is easier to create soft thin lines with this pen. Colour can be intense, but I think mine is running out. Waterproof, smudge proof.
Skin Food Apple Liquid Eyeliner 5/5
★
★
★
★
★
I forgot to finish editing the text before I saved the image hehe :P This comes as a brush in a pot and so this is suitable for dramatic and dark looks that require more intense eyeliner. The brush allows faster application to large areas and colour is intense. Waterproof and smudge proof too. Removal of this creates flakes similar to removal of fiber mascara.
Loreal Telescopic Carbon Black 5/5
★
★
★
★
★
This mascara is amazing. It has a small, thin brush head that doesn't pick up LOADS of mascara... meaning no smudges and no spider lashes! It holds a curl and makes lashes super longgggg. Intensely black, works really well for bottom lashes too. Don't think this is waterproof but I haven't had any smudges or melting with it. Highly recommend.
Loreal Telescopic Clean Definition Black 5/5
★
★
★
★
★
This mascara is great for a natural look. Really separates the lashes and adds length and definition. Again, the brush is small, slightly longer bristles than the telescopic carbon one though. There's less product on the brush, meaning cleaner looking lashes. Not waterproof but haven't experienced smudges or melting. Highly recommend.
Fairy Drops Platinum Mascara Film Type 4/5
★
★
★
★
"FAIRY DROPS Platinum Mascara Film Type contains 5 kinds of treatment essence to beautify and
repair eyelashes. Fiber and Volume Up Wax make glossy, pine needle-shaped lashes with extra
volume and length. Rich film maintains the lashes' curl all day long. Water-resistant film type is OK
for lash extension. You need not worry about smudge.
US and Japan patented Fairy Drops Brush (Curve) catches even tiny lashes from their roots. Lashes are bitten between the balls and sharp triangular bunches are made. It pushes up making beautiful curls without clump."
It's nice knowing that this mascara can hold a curl and is also friendly on the lashes, but I feel that it's just a psychological thing as it doesn't really do anything for your eyelashes.
But it's a very good mascara overall, the brush head is very unique however a little too big for my eyes. I'll use this on dramatic makeup looks. A little hard to remove this mascara but overall, intensely lengthens and volumizes lashes.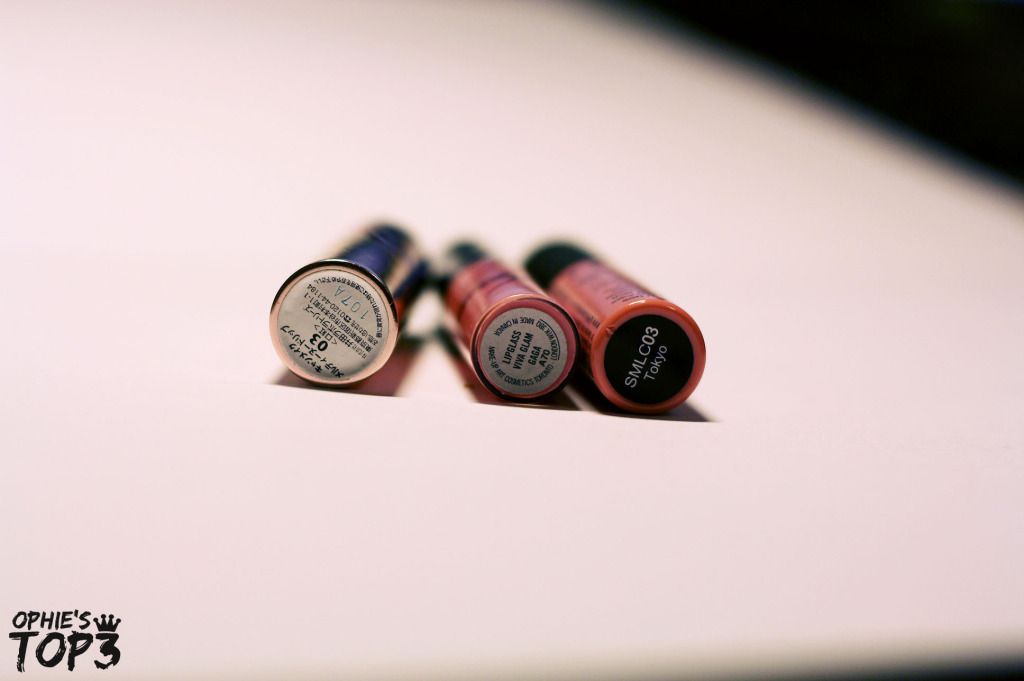 Canmake Nudy Melt Lipstick 03 5/5
★
★
★
★
★
This is a beautiful, creamy lipstick that gives a slightly peachy, but baby pink lip colour. My favourite lipstick of all time. Their other colours are great too. Love this.
MAC Viva Glam Lady Gaga Lip Glass 5/5
★
★
★
★
★
My FAVOURITEEE lip glosss!!! Thank you Stephanie for giving this to me ages ago. I've been using it all the time ever since and wish they're still available <3 Love the colour. Intensely moisturising and smells.. amazing...... love it.
NYX Soft Matte Lip Cream in Tokyo 5/5
★
★
★
★
★
Just realised I spelt it wrong in the photo, my bad. But this is really quite nice. It's creamy souffle sort of texture but comes up matte and gives a beautiful pop of colour. Love this, smells good enough to eat.
So was this actually interesting or not? Please comment if you'd like more ^_^